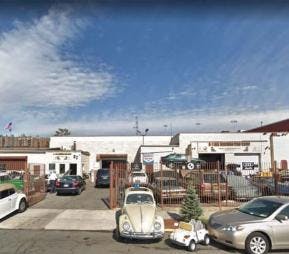 Rezoned Inwood Site Hits Market At $22.5M, Report Says
INWOOD, NY — A development site in a section of Inwood targeted by the neighborhood's 2018 rezoning has hit the market at an eight-figure asking price, according to reports.
The site at 400 W. 219th St., which runs a full block along Ninth Avenue to West 218th Street, had been put up for sale at a price of $22.5 million, commercial real estate publication Connect New York first reported.
Brokerage firm Development Site Advisors was hired to market the property, according to the report, which indicates a sale to a real estate developer is likely. The firm's Lev Kimyagarov described Inwood as one of Manhattan's "best kept secrets" and said that the area will see many development projects in the coming years in an interview with Connect New York.
The site is located in a special zoning district called the "Tip of Manhattan" that was included in a city plan to rezone most of the Inwood neighborhood. The special district was one of three areas East of 10th Avenue that were upzoned in order to encourage housing and commercial development. City planners felt that the special districts were constricted by former industrial zoning uses.
A group of Inwood residents is currently suing the city to have the rezoning proposal overturned. Inwood Legal Action's Article 78 lawsuit claims that the city's environmental review process failed to analyze several effects of the rezoning plan on neighborhood residents including residential displacement.