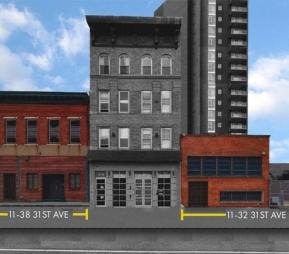 Astoria Development Site Hits the Market at $9M
Sep 17 , 2019 Connect New York
Development Site Advisors has been hired to sell 11-32 and 11-38 31st Ave. in the Astoria neighborhood of Queens. The two sites are combined from the rear, giving a developer multiple options. Asking price for the property is $8.8 million.
"This specific block is home to multiple successful projects including the East River Condo, the Piano Factory condo conversion and soon Cape Advisors' mega-project boasting three towers and over 500 residential rental units," said Rubin Isak, Development Site Advisors' managing principal. Isak is marketing the property, along with Jake Kaiser and Lev Kimyagarov.
The property is a horseshoe-shaped lot with 46 feet of frontage on one lot and 25 feet of frontage on the other. Options including constructing either two separate buildings or conducting a zoning lot merger, transferring air rights and constructing a single building, while selling off the existing mixed-use structure to bring down the land acquisition cost.