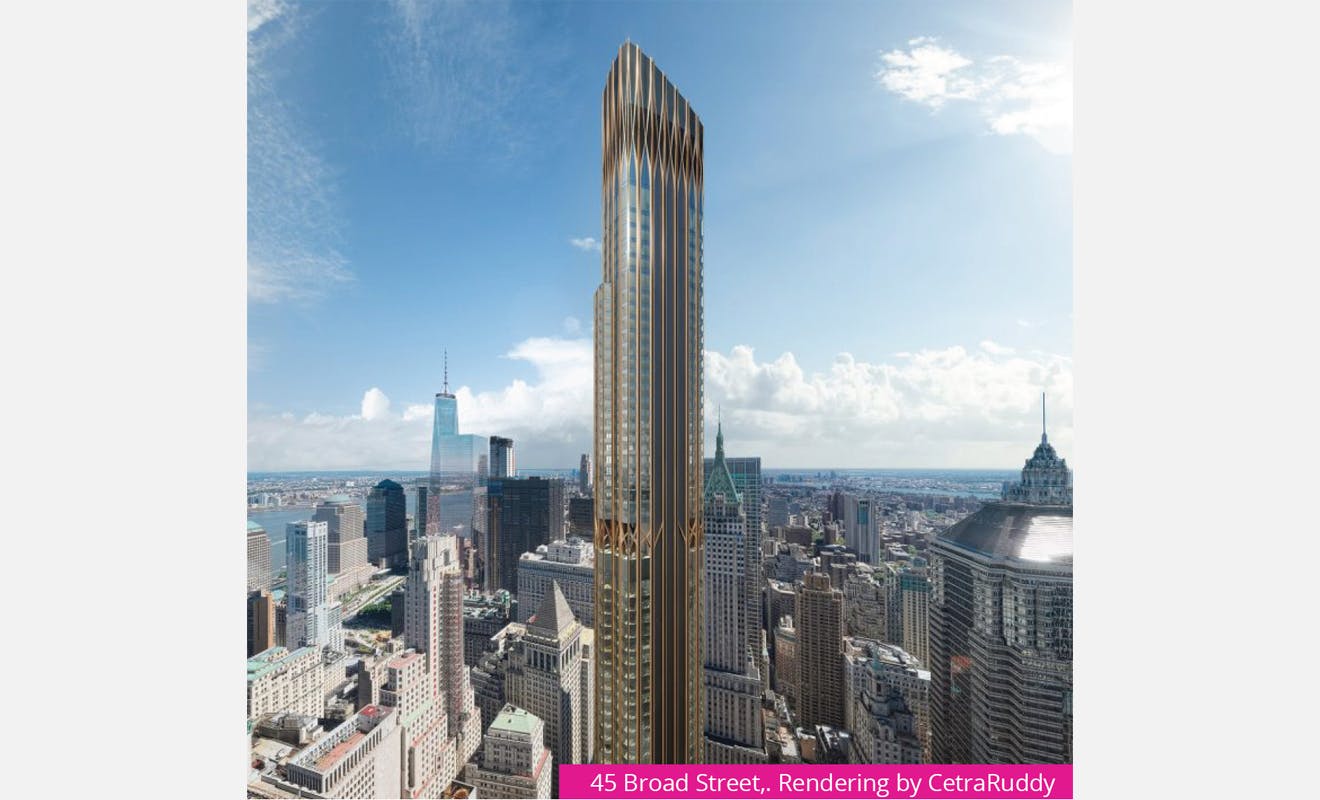 The New Towers of Lower Manhattan
by development site advisors
New York City's iconic skyline is changing year by year as top developers fight to be a part of the cityscape. Today we will dive into the new towers of Lower Manhattan that have yet to be built but will eventually hold their place in NYC's skyline history.  
45 Broad St 
Madison Equities filed for a 65-story residential mixed-use building back in 2016 and construction started a year later in 2017. It plans to be the tallest residential structure of the Financial District. It will stand to be a 1,115 foot tall skyscraper, designed by CetraRuddy. The renderings show that the Art Deco-style tower will be decorated with bronzed aluminum cladding and will feature a distinctive sloped ornamental crown.  Earlier in 2020, it was announced that there will be a slight height reduction of 80 feet to meet Federal Aviation Administration guidelines.  
45 Broad St sits on a 13,202 SF lot on a C5-5 zoned land and the proposed structure will total 356,644 SF. C5-5 zoned land provides a developer with a max floor area ratio (FAR) of 15.0, which suggests that air rights had been transferred onto this site. Prior to Madison Equities acquiring this site in 2014, Swig Equities bought the land in 2006, as well as the adjacent Broad Exchange Building. Swig planned to demolish a preexisting building at 45 Broad Street and part of the Broad Exchange Building to transfer air rights for a proposed Nobu Hotel, which was backed by Robert De Niro. Unfortunately, the company defaulted on a mortgage from Lehman Brothers in 2009 and Lehman took control of the property in 2012 before selling it to Madison Equities in 2014.  
Construction has been placed on hold since 2020.  
247 Cherry St 
The proposed 247 Cherry St renderings, designed by ShoP Architects and being developed by JDS Development Group, were first released in 2016. This 79-story residential building in Two Bridges, Manhattan caused a lot of controversy upon the news of this development. It tumbled through a series of lawsuits and faced opposition from politicians and organizations before getting the greenlight to begin construction. Alongside 247 Cherry, two other planned towers will be built as well. It will be next 246 Cherry, to the north and developed by L+M and CIM. A bit further up, Starret will be developing 259 Clinton St. These new residential skyscrapers of the Lower East Side will bring 3,000 new apartments with 700 of them being affordable units.  
247 Cherry will be the tallest of the group of new towers, standing at 1,008 ft tall. The land area equals 11,800 SF in a C6-4 zone, bringing the as-of-right total zoned buildable square footage to be 118,000 ZFA. The group of developers plans on adding improved and upgraded parks and playgrounds for the neighborhood, plans for flood resilience measures, and a $12.5 million dollar investment to a nearby NYCHA apartment complex, as well as a new subway entrance to the East Broadway station.  
250 Water St 
At the edge of the South Street Historic District, an undeveloped lot at 250 Water Street takes over a large city block and has been vacant for years. In January of 2021, Howard Hughes Corporation presented a plan to transform this parking lot into a 470-foot-tall tower designed by Skidmore, Owings & Merrill (SOM) to the Landmark Preservation Commission since it sits within Lower Manhattan's Seaport Historic District. The presentation for a dual-pronged tower that includes 360 units of housing, 100 of which will be designated at affordable units was sent back to be revised.  
Howard Hughes returned with a new design that caps the height of the tower at 345 feet and downsized to 550,000 ZFA. This brings the number of residential units down to 270 with 70 of them being affordable. This 47,880 SF parcel is in zoning district C6-2A with 7.2 FAR on a wide street, and is located in an Inclusionary Housing designated area. The rest of the square footage will come from an air rights transfer from the neighboring Pier 17 and the Tin Building which Howard Hughes controls under a long-term lease. 
This project is in it for the long haul as the Seaport Coalition is bringing another petition to fight this, even after the LPC approval of the latest rendition. The Community Board 1's Land Use Committee meeting was held earlier this month, September 2021. 
2 World Trade Center 
The last skyscraper of the World Trade Center complex has yet to be built to complete the iconic collection. The original design for the new 2 World Trade Center skyscraper was by Foster and Partners in 2006 before Silverstein Properties handed it over to Bjarke Ingels Group. It was designed with the possible media tenants, 21st Century Fox and News Corp in mind but when they pulled out, the future of the site project became uncertain. Silverstein turned back to Foster and Partners and announced in 2020 that they would be working together to update Foster's original design to be "significantly modified to be more reflective of contemporary needs and taste".  
It will be the second tallest of the WTC towers, standing 1,270 feet tall with over 80 stories and 2.8 million rentable square feet of space. It is a massive parcel of 833,945 SF in a C6-4/C5-5 zoning district that gives it a max FAR of 15.0. 2 WTC is the last to be built because unlike the other towers of this complex, it will not rely on government assistance but rather on business conditions coming together to make it buildable and financeable.