141-01 32nd Avenue
Flushing, NY 11354
$16,500,000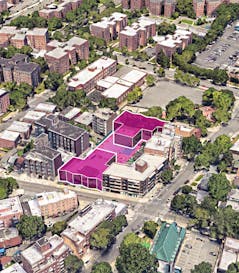 Development Site Advisors has been exclusively retained by ownership to sell 141-01 32nd Avenue in the Downtown Flushing neighborhood Queens NY.
The subject property is currently owner operated as "The North Flushing Pool Club" and owned by the same entity for 63-Years. This .83 acre site is a block-through lot on 32nd Avenue and 31st Drive between 140th Street & Union Street; one-block off of Parsons Blvd. 141-01 32nd Avenue is also located in a Qualified Opportunity Zone, offering developers and investors tax benefits and gains deferral options. The subject property is an approximately 312.97' x 134.36', 36,296 square foot block-through lot, located in an R5D Zoning District with an FAR of 2.0, allowing for the development of a 72,592 Square Foot, 45' tall, 4-Story, Residential Complex in Prime Flushing.
141-01 32nd Avenue is ideally located, with the Queens Public Library on the Corner, Leavitts Park/Flushing High School Leavitt Field directly across the street, multiple houses of worship, luxury rentals as well as surrounded by boutique and luxury condominium projects. The property is also well located just steps from major transportation such as the main Queens Bus lines: Q16, Q20A, Q20B, Q44-SBS, Q34, QM2, QM20, Q25, Q50, etc. The property is also located 5-blocks from Northern Blvd and 10-blocks to the Main Street 7-Train Station.
| | |
| --- | --- |
| Location Description | Block-through lot on 32nd Ave and 31st Drive between 140th St & Union St |
| Borough/Block/Lot | Queens / 4414 / 27 |
| Neighborhood | Flushing |
| Lot Size | 36,296 SF |
| Building Class | Q3 |
| Assessed Value | $48,915.00 |
| R.E. Taxes | $52,075.00 |